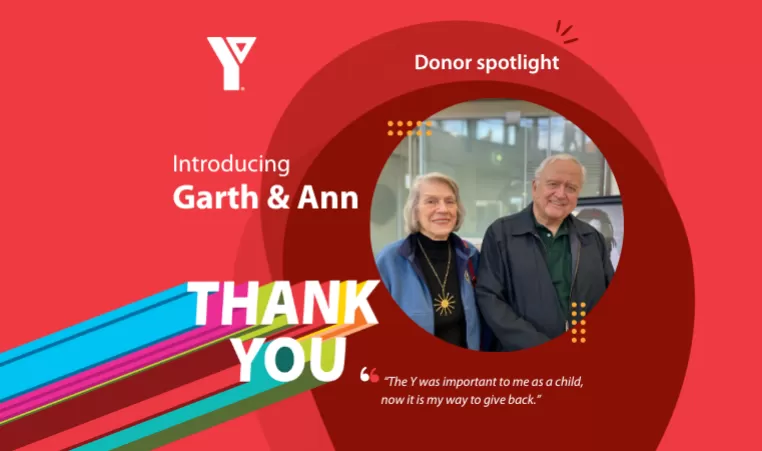 At the YMCA, we believe in people. We see their potential. We find strength in telling stories of our differences and find inspiration in sharing our diversity – all with the purpose of bringing us closer together. 
 
Meet Garth and Ann Toombs, YMCA Calgary donors who began their connection with the YMCA at a young age. Garth had worked for YMCAs in Saskatoon, Regina, London Ont., and Toronto. Ann met Garth shortly after becoming a member at a YMCA in Saskatoon. Ann was very athletic and found love for the gymnastic program that was offered, and Garth always considered himself a "Y Guy" after being involved in the YMCA's leadership opportunities. 
 "The Y was important to me as a child, now it is my way to give back." 
Garth and Ann chose the YMCA as their charity because they trust that the funds will be put to good use. They know that the many initiatives and programs help the community grow and thrive. Both have described the YMCA as inclusive, and like that, there is always something for everyone, and that it is a space where you can build relationships with familiar faces. 
 
"The Y is so adaptable, it moves with the needs of the community. It is a place where people are concerned with other people. The Y wants to have a positive impact on their community members' lives." 
Garth remarked just how much that the Y has grown. He recalls when he was part of a committee that first introduced Drop-In Program at the Lakeshore YMCA. He said it was a big controversary back then, even had an article featuring him in the Globe and Mail paper, but the change was necessary for the youth and community. Now, beyond that change, there are many programs such as swimming, day camps, and childcare options. 
YMCA Calgary exists so everyone has an opportunity to belong. By making a donation, your gift goes right to work and supports members of your community so no one is turned away. 
If you would like to donate to YMCA Calgary, please visit www.ymcacalgary.org/ways-give.