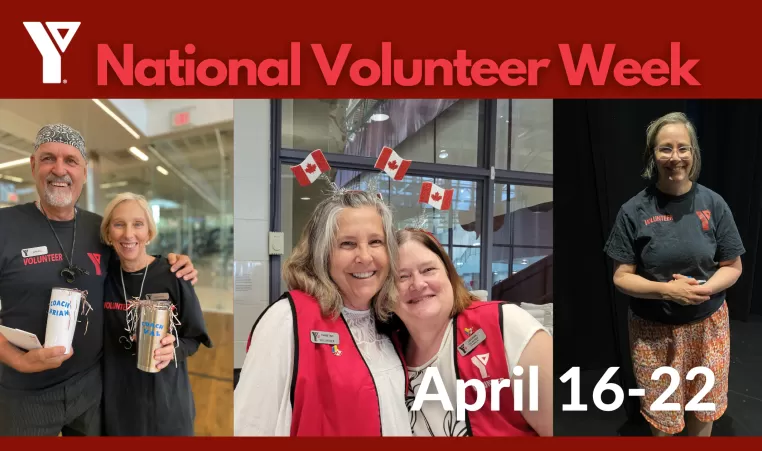 We are celebrating all the people who give their time and talents to make a difference in their community.
"Everything we do in the community depends on the type of people who show up every day, and that includes our incredible volunteer base," says Shannon Doram, YMCA Calgary President & CEO.
In 2022, we were fortunate to have 1,683 volunteers who supported our programming, brought life to our fitness classes and weight floor, provided friendly smiles and a warm welcome to everyone who entered our facilities, and so much more.
Together, volunteers contributed over 95,000 volunteer hours – a testament to the impact they are making in the community. 
Below is a snapshot of the impact volunteers are making across the YMCA and what drives their commitment and care.
Volunteer Snapshot:
208 volunteers gave 6,679 hours to support the growing hub of community programs we offer across Calgary.
"I am a semi-retired Engineer who likes math and science.  Volunteering as a tutor allows me to help students with STEM education, in a subject I enjoy.  It is rewarding to see the students grow in their confidence and understanding.  And I enjoy playing pickleball at Crowfoot, with my free membership!"
91 volunteers gave 3,627 hours to support the care of our youngest participants. 
"I love YMCA! It's like a family to me with friendly and caring staff. I work with children 5-7 years old who remind me of my 3 young grandkids in Vancouver!"

 
569 volunteers on our membership team contributed 37,192 hours, welcoming all YMCA patrons and providing everyone access to our facilities. 
"I find volunteering at Shane Homes YMCA at Rocky Ridge very fulfilling by interacting with the YMCA members.  I volunteer in Member's Services which gives me the opportunity to speak directly with our clients, passing on encouraging statements with respect to their workout regime."

 
418 volunteers gave 11,333 hours to provide youth opportunities to get active within our sport and swimming programs. 
"Having the opportunity to get kids interested in skating, and being active are my main goals. it's great to see kids be able to learn new skills."

 
413 volunteers contributed 17,492 hours to support our weight floor teams, ensuring clean equipment and safety for all.
"I volunteer at the YMCA to make a difference in my community. Even if it is just cleaning the treadmills on the weight floor weekly. Because I volunteered others can step on a clean machine. They may not notice, but I do. Everyone likes clean equipment."

 
Thank you to all our volunteers that commit their time to YMCA Calgary!